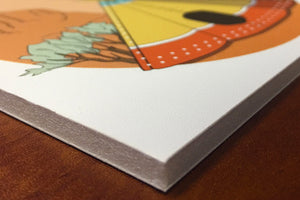 Ultra Boards offer the vibrancy and high quality of Foam Board printing with an added resistance.
They are perfect for signage, exhibits, and displays. The surface prevents moisture from penetrating allowing the printed images to look vibrant and retain images in high quality.
Ultra Board is a heavy-duty, plastic panel that features a litho-grade high-impact polystyrene surface that makes it ideal for permanent displays and signs.  The dent-resistant  styrene liners are secured to the foam center that keeps the panel flat and rigid., bending and crushing because of the extra dense core.
Matte and Gloss  laminations are also available for a high-end finish and added durability.
Lamination also adds a moisture barrier that helps to prevent bowing and warping.