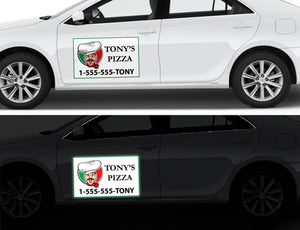 The Reflective Magnet allows you to advertise "on-the-go" at any hour, or quickly update your signage at a temporary work site. 
Please Note: All orders of reflective materials placed after 10pm PST on 7/27/2018 will no longer have Gloss Lamination. We are upgrading our material and will UV print for longer lasting graphics in all environments. If you have any questions please contact Customer Service (888)-739-8501. Thank you.
Features:
Maximum Size: 24" High X 60" Wide
Resolution: High resolution digitally printed at 720 x 720. Printed on one side only.
Usage: Indoor or Outdoor; Waterproof and UV safe that will last for years
Material Options:
30 mil. Gloss Magnet
4 mil . Reflective Adhesive
2.5 mil Gloss Lamination (Free)