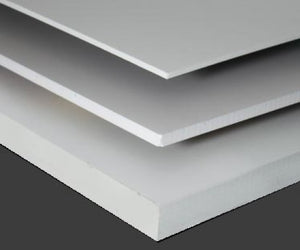 PVC signs offers a good mix of durability, value for money and print quality. Our custom PVC prints can be placed outdoors and could withstand harsh weather conditions, including water, where most other prints would fade or even become unreadable.
Also called "Sintra", this material is a lightweight yet rigid and durable board made of PVC plastic, which is great for indoor use as well.
The graphics are printed directly onto the surface of the PVC board using our UV Flatbed printer which produces outstanding color and print quality. Printing on PVC board eliminates the need for mounting vinyl, making it an economical method of producing durable signage. PVC board printing is ideal for multiple applications including trade show displays, business signs, real estate signs, and many other uses.
Our 1/8″ PVC  Board's textured surface provides a matte appearance, so it produces low glare and shows the graphics clearly. It's also easy to cut to fit any display and can be printed on both sides.